Maine's Premier Performance Dealer!


Southern Maine Motors

is proud to be Maine's premier SRT and Mopar Performance Dealer, offering a selection of Dodge, and Jeep vehicles that set the standard in performance - whether for the track, dragstrip, or the daily commute.

Performance vehicles range from the World's Fastest 1/4 mile production car - the 2018 Dodge Demon, to the 2018 Jeep Grand Cherokee Trackhawk, which is the world's fastest accelerating SUV. Other models in the lineup include the limited edition Dodge Challenger T/A, Charger Daytona, Durango SRT, and Journey GT.  
2018 Dodge Demon


The Dodge Challenger SRT Demon is built to be an elite performance machine. That's why it's powered by a Supercharged 6.2l Hemi SRT DemonV8 engine and armed with a functional Air-Grabber hood scoop and Torque Reserve Launch System.


Highest Horsepower of ANY production car 

Highest G-force by a production car

First wheelie by a production car

World's fastest 0-60 production car

World's fastest 1/4 mile production car






Supercharged 6.2l Hemi SRT Demon V8

This engine will firmly plant you in the seat with the highest g-force of any production car. And while the red painted engine shares architecture with that of the Challenger SRT Hellcat, the Demon V8 engine features 25 major component upgrades from the Hellcat engine, including pistons, rods, supercharger, valve train and fuel injection system.



2018 Dodge Daytona

A Classic Reborn. Introduced at the inaugural Talledega 500, the Dodge Charger Daytona is an American Classic. Reintroduced nearly 50 years later, this ride is inspired by the original.

Click here to learn more about the limited edition 2018 Dodge Daytona.
 

2018 Dodge Challenger T/A


The power of this Challenger as a two-door muscle machine is matched only by its style.

The perfect balance of unrelenting power and ultimate control, the Dodge Challenger T/A is a force on and off the track.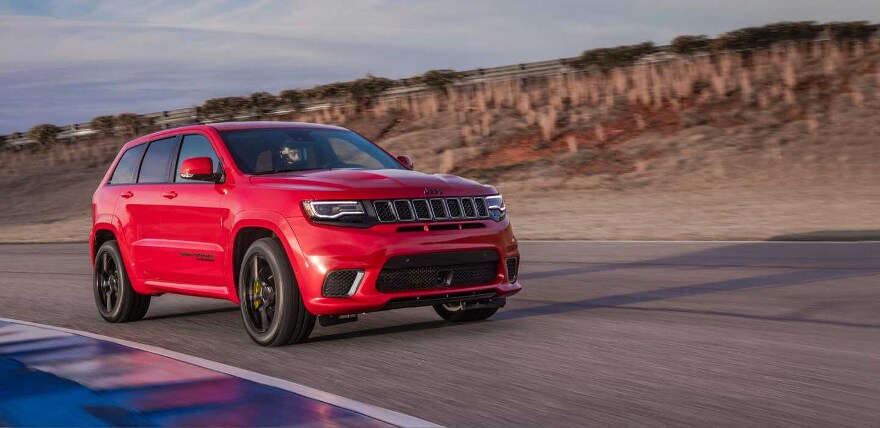 Jeep Grand Cherokee Trackhawk & SRT

Say hello to a new standard in SUV performance. The all new Grand Cherokee Trackhawk goes from 0-60 in 3.5 seconds. But that's not all. Braking, handling, torque, and horsepower have all been tuned to make Trackhawk an elite driving experience. Add in ultra-premium luxury, and it joins the Grand Cherokee SRT as a pair of spectacular track and street-proven Jeep 4X4s. 
 




Exhilaratingly Powerful


Grand Cherokee performance is taken to new heights thanks to the expertise of the Street and Racing Team (STR) - the high performance group of FCA US LLC.

The team maximizes power and torque in two powerhouse engines, taking advantage of HEMI technology in the SRT and the remarkable Supercharged6.2l HEMI V8 engine on the Trackhawk.

The Supercharged 6.2l HEMI V8 helps make Trackhawk the fastest accelerating SUV and gives it the fastest 1/4 mile time and highest torque rating of any SUV.



To order your SRT or performance model, or to schedule a test drive in one of our cars in stock, please call: (207) 405-0119