The Jeep® and Mopar brands have once again joined forces to create seven new, custom-built concept vehicles for the annual Easter Jeep Safari in Moab, Utah, March 24 – April 1. For the 52nd year, thousands of off-road enthusiasts will head to Moab for the annual Jeep event to participate in a week of technical off-roading on some of the most picturesque trails that the country has to offer.
"Pushing the limit is something the Jeep brand is no stranger to and these seven new, exciting and capable concept vehicles are the latest example of that," said Mike Manley, Head of Jeep Brand, FCA. "Every year, we look forward to introducing new concept vehicles and ideas to our enthusiasts. The Moab Easter Jeep Safari presents a unique and perfect opportunity to collect valuable insight from our most loyal customers."
A comprehensive assortment of production and prototype Jeep Performance Parts are featured on this year's concept vehicles. The Mopar brand develops all Jeep Performance Parts with rigorous specifications and legendary 4x4 capability in mind. This allows Jeep owners to further enhance their stock vehicles with confidence. Mopar already has more than 200 parts available for the all-new 2018 Jeep Wrangler.
"When it comes to customization, no vehicle can match the Jeep Wrangler," said Pietro Gorlier, Head of Parts and Service (Mopar), FCA. "This is why we worked very closely with the Jeep brand to develop an exclusive line of more than 200 parts and accessories to enhance – even more – Jeep Wrangler's off-road capability to fit any customer's lifestyle. Almost all Wrangler vehicles sold are fitted with at least one Mopar accessory, and you see this perfect combination between vehicle and accessories come to life every year at the Easter Jeep Safari."
The 2018 Easter Jeep Safari concept vehicles include:
Jeep 4SPEED
Light, quick and nimble, the Jeep 4SPEED concept is the latest in a line of lightweight Easter Jeep Safari concepts. Built "4SPEED," this latest lightweight concept, following the popular Pork Chop concept in 2011 and Stitch concept in 2013, bolsters Wrangler's off-road capability and performance through extensive weight savings, and showcases the all-new 2.0-liter turbocharged I-4 engine.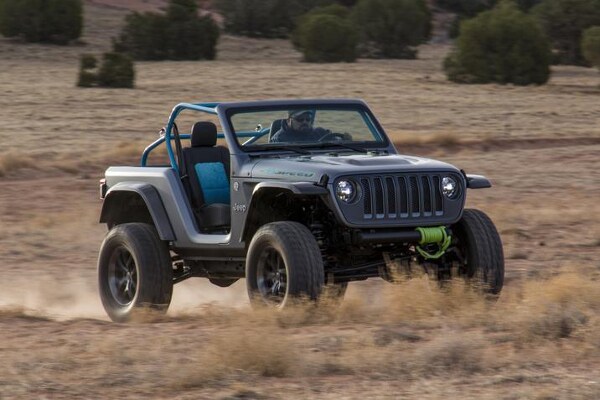 On the exterior, the Jeep 4SPEED concept features custom weight saving measures including a carbon fiber hood, high-clearance carbon fiber fender flares and a carbon fiber rear tub with perforated aluminum panels. The 4SPEED concept boasts a sleek side profile courtesy of a raked windshield, elongated door openings and an aggressively swept back custom cage. The rear of the concept utilizes custom, lightweight bodywork, and because of the combined weight savings, 4SPEED's ride height is two inches higher than a stock Wrangler.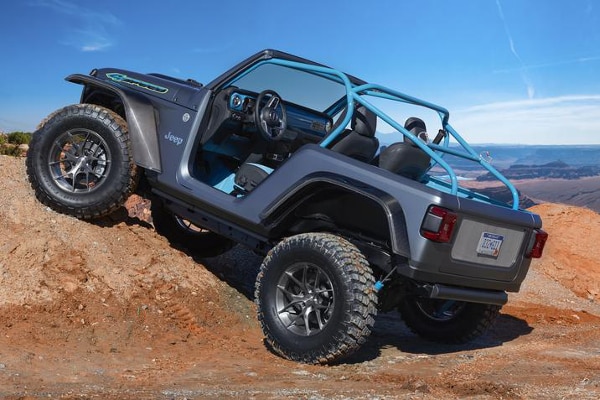 In addition to being lightweight, overall length has been shortened by 22 inches while leaving the wheelbase at its stock length, resulting in increased approach and departure angles.
For even more capability, Jeep 4SPEED features Dana 44 front and rear axles with a 4.10 gear ratio and 18-inch lightweight monoblock wheels wrapped in 35-inch BF Goodrich Mud Terrain tires.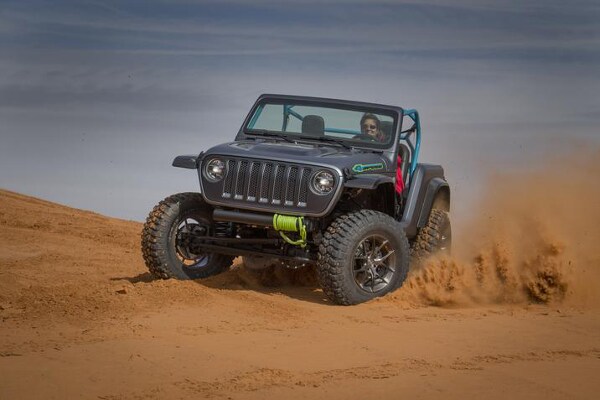 The interior features a customized instrument panel, and re-trimmed front seats, while the rear seats have been removed and a welding curtain has been repurposed as a bikini top. The floor has been bedlined and the foot wells have been replaced with perforated aluminum panels.
The Jeep 4SPEED is powered by a 2.0-liter I-4 turbocharged engine, mated to an eight-speed automatic transmission.
Jeep Sandstorm
Inspired by Baja desert racers, the Jeep Sandstorm concept is all about blitzing long, sandy straightaways while still being capable of handling the daily driving duties. To accomplish this, the Sandstorm features off-road hardware that will handle both with ease, including an extreme-duty suspension system and a powertrain with excess power on tap.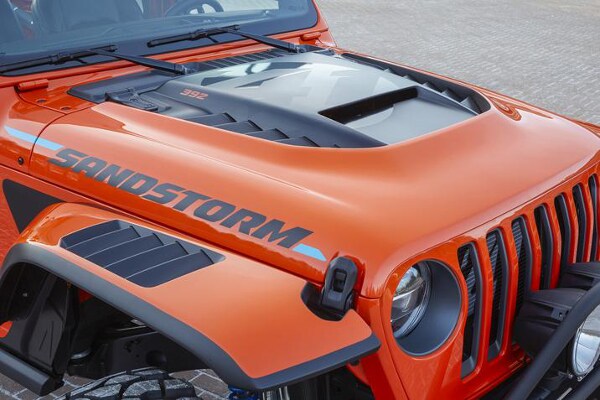 To fit the Baja look, the exterior features custom styling cues including a vented carbon fiber hood, vented high clearance front and rear fender flares and a cage that includes a rear mounted lay down style spare tire carrier. The exterior handles and swing gate have been removed while the rear doors have been chopped for a cleaner look.
Other custom Baja-inspired touches include high clearance front and rear tube bumpers, modified rock rails, an integrated on-board air compressor, race-style fuel filler, KC Carbon series front auxiliary lights and a chase light.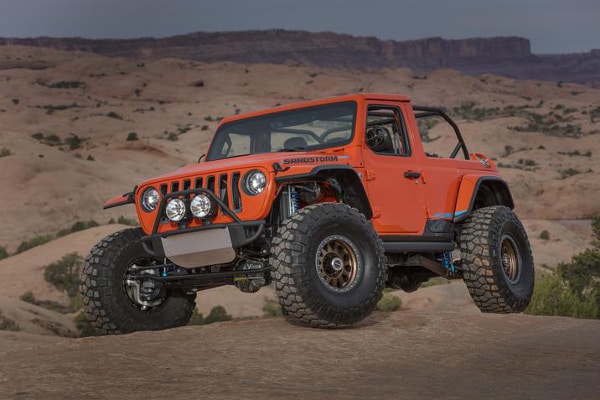 The front axle has been moved forward four inches and utilizes a heavy-duty longarm four-link suspension and track bar. The rear axle has been moved back two inches and utilizes a triangulated trailing arm four-link suspension. The longer wheelbase allows for increased high-speed stability. Custom coilovers and bypass shocks allow the front wheels to travel 14 inches while the rear wheels can travel up to 18 inches.
For even more capability, the Jeep Sandstorm concept includes heavy-duty front and rear Dynatrac 60 axles with a 5.68 gear ratio, 17-inch beadlock wheels and 39.5-inch BF Goodrich Krawler tires.
The Baja race truck theme continues throughout the interior, which features a custom cage that integrates the chassis, leather-trimmed front seats and unique low-back racing bucket seats in the rear. A racing-inspired cluster and 7-inch off-road GPS unit handle navigation while independent rocker switches control on-board electronics, air compressor and axle lockers. The Sandstorm concept sheds all plastic trim and carpet in favor of a bedlined floor.
The Jeep Sandstorm is powered by a 6.4-liter V-8 engine from the Mopar performance catalog and is mated to a six-speed manual transmission.
Jeep B-Ute
The Jeep B-Ute concept is equipped with a variety of Jeep Performance Parts for the ultimate off-road adventure.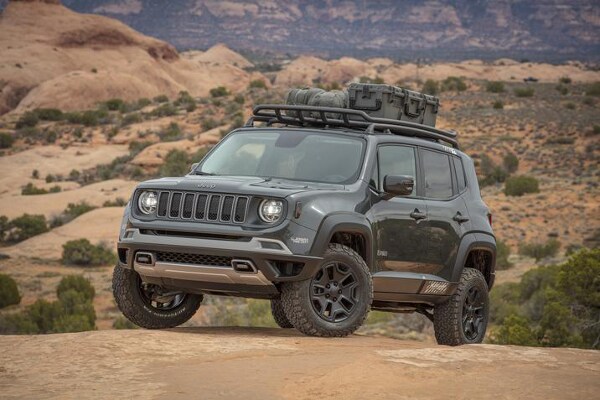 The Jeep B-Ute's exterior features unique front and rear fascias and upper grille area, a hood with heat extractors, and wider flares.
Jeep Performance Parts featured on the B-Ute concept include a 1.5-inch lift kit, a roof rack and rock rails. The Jeep B-Ute's off-road capabilities are increased by using 17-inch wheels with a 30-millimeter offset, wrapped in BF Goodrich T/A Baja Champion tires.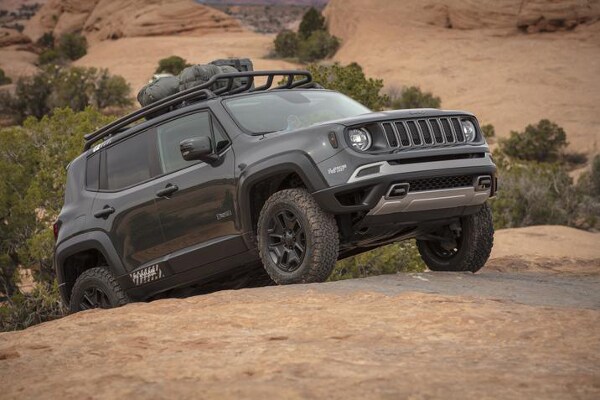 Inside, the B-Ute features custom trimmed seats with Mineral inserts, a Carbonite finish on the shifter, speaker and vent surrounds, Piano Black inserts, a MOLLE system on the back of the front seats, and Mopar all-weather floor mats.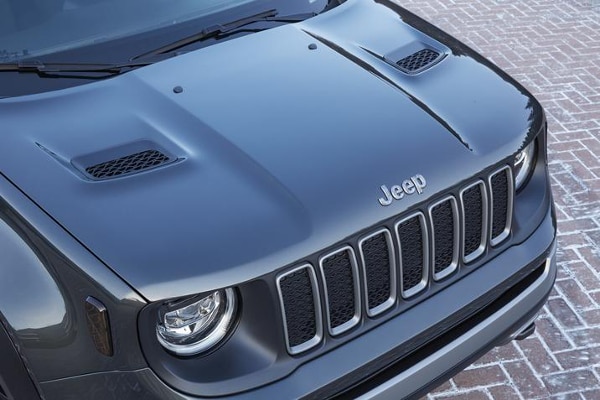 The Jeep B-Ute is powered by a 2.4-liter Tigershark engine, mated to a nine-speed automatic transmission.

Click here to view the other 4 concept vehicles in Part 2.