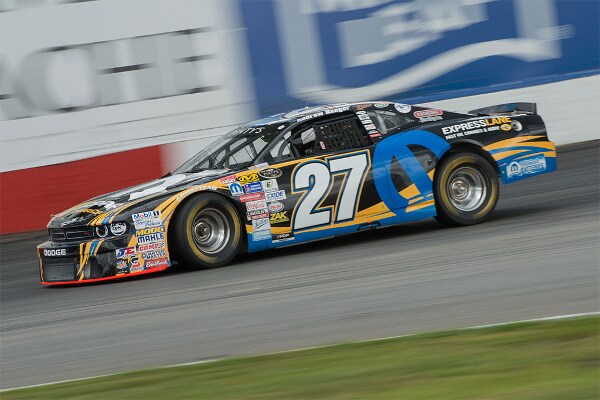 Although Dodge and Mopar have not been active in NASCAR's Cup Series since winning the championship with Penske Racing in 2012, they have been active north of the border, in the NASCAR Pinty's Series. Dodge and Mopar have been heavily supportive of the Canadian series, evidenced by the fact that eight of the last ten series champions have driven Dodge bodied and branded late-model-style race cars.
Unfortunately, because of a spec engine rule, which was implemented in 2009 to manage costs, many of these Dodge bodies vehicles had GM-based spec engines under the hood, because the package was roughly 120 pounds lighter than the Mopar LA-based engines.
The thought of GM power under the hood of race-winning Dodges wasn't palatable to Mopar, so they decided to develop a completely new engine that would be as economical as the spec engine and just as competitive. The Mopar M1 race engine was born.
In 2017, Mopar and Arrow Racing, who they've enjoyed a working relationship with for many years, began working with NASCAR on the M1 package, and the fruit of that labor is an aluminum block third-generation Hemi engine.
Mopar worked closely with NASCAR to meet its cost goals. The new engine can be purchased through Arrow Racing in two configurations. The "you build it" kit is priced at $23,000. Assembled, with a dyno sheet, it costs $27,000. Both prices include shipping, but without a 390 Holley Spec carburetor, which must be sourced from NASCAR. This pricing is in line, and in some cases considerably less than, the GM-based engine from Robert Yates Racing.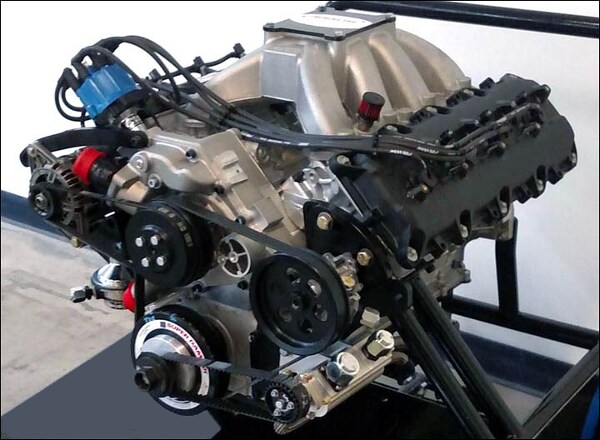 The engine was first used over Memorial Day weekend in the Pinty's series, and Andrew Ranger scored a second place finish with it. In its first outing, a 1-1/16" restrictor plate was used, which put the engine at a slight disadvantage to the GM-spec engine, which used a 1-1/8" restrictor.
At the most recent outing for the Pinty's Series, at Exhibition Place, in Toronto, Andrew Ranger captured his 3rd Toronto victory, driving the Mopar Express Lane Dodge Challenger. This was Ranger's second consecutive win this season. Including Ranger, four of the top five finishers at Toronto were driving Dodges.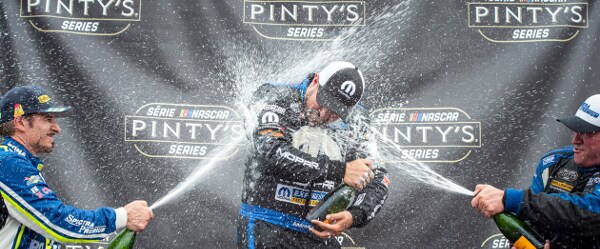 Mopar - Arrow 5.9 NASCAR Hemi
If the first legal Hemi engine in one of NASCAR's major touring series in roughly four decades is not news enough, Mopar is actively working with NASCAR to make it legal in every series the GM-based spec engine is used. Arrow will also be introducing third-generation Hemi crate engines in both cast iron or aluminum block variants, and in 392 or 426 cubic inch flavors. The crate engine will use the same front drive distributor system, forged internals, the NASCAR legal intake manifold, and Holley fuel injection. The first crate engine, a 392, debuted in June 2017.
2018 Hemi NASCAR engine specs:
MOPAR M1 ENGINE Specifications
NASCAR approved for the Pinty Series
Mopar 5.9 liter (362.3 cubic inches) aluminum block (not related to the "LA" 360)

Bore x stroke: 103.124 mm x 88.9mm (4.060" x 3.5")

11:1 compression ratio

Molner forged crank

Mahle pistons & rings

Dyer forged 160.0mm (6.300") long connecting-rods

Mopar 6.4 liter "Apache" aluminum cylinder heads with CNC porting

Upgraded valvetrain parts

Hydraulic roller lifter camshaft

Arrow mid-rise aluminum intake manifold

Three-stage dry sump oil pump

Dry sump oil pan for oval and road course tracks

Mechanical fuel pump

Bosch 140-amp alternator, internally regulated

Mopar power steering pump

DJK Ranger Hemi